Micro-Cellular Path Loss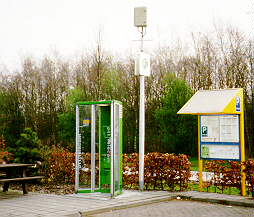 Microcellular networks use a cell size of, say, 200 to 2,000 meters. Propagation models for micro-cellular communication typically model the path loss law as a transition from free-space propagation to groun wave propagation if d < dg where theoretically the turnover distance dg occurs at dg < 4hR hT / l, where d is the distance of the radio link under study, hR and hT are the heights of the receiving and transmitting antenna respectively, and l is the wavelength of the transmitted wave.

Various models have been proposed, e.g. a step-wise transition from "20 log d" to "40 log d" at a certain (turnover) distance.
Harley suggested a smooth transition, with

where r is a normalized distance, with r = d / R, with d the propagation distance in meters and R the cell size in meters. Similarly rg = dg / R is the normalized turnover distance, and is the local-mean power (i.e., received power averaged over a few meters to remove to effect of multipath fades). Studies indicate that actual turnover distances are on the order of 800 meters around 2 GHz.

Other models, such as a stepwise transition, have been proposed. Empirical values for the path loss exponents and their intervals of validity have been reported in many papers.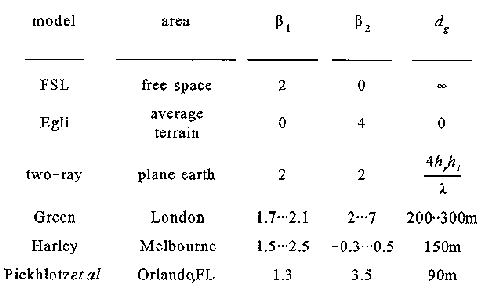 A smooth transition is often considered in theoretical system studies.
Multipath in Micro-Cells
The micro-cellular propagation channel typically is Rician fading: it contains a dominant direct component, with an amplitude determined by path loss, a set of early reflected waves adding (possibly destructively) with the dominant wave, and intersymbol interference caused by the excessively delayed waves, adding incoherently with the dominant wave.