Global System for Mobile Communications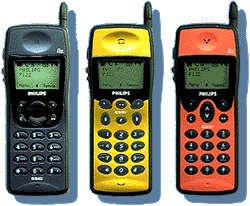 In 1992, this successful standard for Pan-European digital cellular telephony saw its first operational successes. The name GSM originated early in the 1980's as the French acronym for Groupe Special Mobile, the international working group tasked by most European PTT administrations to develop a common standard for cellular networks. A joint standard allows international roaming across the many European borders, until then only realized on a regional scale by the analog NMT-standard. The main advantages of a digital system are a larger user capacity per unit of spectrum, ease of implementation of sophisticated encryption, authentication, and other security features, and robustness against radio channel imperfections. A Pan-European standard further provides economies of scale in mass production of handheld and car terminals, which would never have been achieved in the fragmented national markets in Europe. At January 1st, 1995, commercial GSM service was offered in sixteen countries. The system had attracted 135 Million subscribers worldwide in 1998. It had a share of 45% of the cellular market, and 62% of the digital cellular market. Expectations are 250 Million subscribers in the year 2000.
Technical Aspects, Features and Services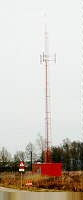 GSM network offers pan-European roaming.
Security

Digital encryption
User authentication
Smart (SIM) card: personal number

Can support ISDN-type services
Call redirect, automatic callback
Transparent G-3 fax mode
Data Services to be standardized soon
Due to its specific error control mechanisms, a stationary GSM channel often is better than wireline modem, but not as fast.
Radio Access
Frequency Division Multiple Access Carrier spacing 200 kHz
Time Division Multiple Access at 8 users per carrier
speech coding: linear predictive coding and regular pulse excitation 13 kbit/s
channel equalization: 4 bit intervals bit duration 3.7 microsec; maximum delay difference 16 microsec
channel bit rate 270 kbit/s
channel bit rate per user 22.8 kbit/s, incl. ch. coding
Gaussian Minimum Shift Keying (GMSK)
1.35 bit/s/Hz
Max cell size: 30 km (limited by guard time interval)
Vehicle terminal: up to 8 watt
Handheld: up to 2 watt
Half rate speech coding possible: 16 users per carrier
"out of band" signaling
GSM Data Services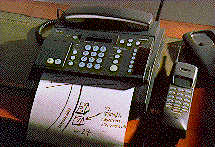 Voice codecs are not suitable for data
Interworking functions needed in network
Traffic Channel 22.8 kbit/s or 11.4 kbit/s
Transparent service

Constant throughput, constant delay
no Cyclic Redundancy Check (CRC); no error detection
Depending on Forward Error Correction (FEC) used 9.6, 4.8 or 2.4 kbit/s with full rate channel 4.8 or 2.4 with half rate channel

Non-Transparent

based on the transparent service, but with a Radio Link Protocol on top of it to improve reliability.
Automatic Repeat Request (ARQ) using error detection based on a CRC
BER less than 10-7

Short message service

packet based
maximum length 160 bytes
delays up to several seconds
uses GSM signaling channels
longer messages split into several packets
sequence of reception not guaranteed

Packet data service

based on X-25
Now: on virtual connection per GSM traffic channel
Services to be extended
Traffic and Transportation: floating car data
DCS 1800
1710 - 1785 and 1805 - 1880 MHz
evolved from GSM
better suited to serve densely populated areas
1800 MHz smaller range, smaller cells
dual-mode terminals with GSM 900
used by "third and fourth GSM operators"
See also: