Paging
Paging is a wireless service to send simple messages to a mobile subscriber. The message can be a simple 'beep', a number or an alphanumerical message. CCIR Recommendation 584 (1982) defines
Paging

is a non-speech, one-way, personal selective calling system with alert without message or with defined message such as numeric or alphanumeric
In 1995, 31 Million people used pagers. Paging is a cheap service and can enhance the use of CT2 cordless phones that can make calls, but not receive calls.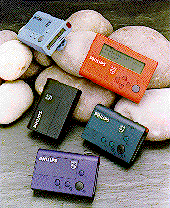 There two main paging standards:
POCSAG standard and,
ERMES
Increasingly, subcarrier signals added to FM radio broadcasts are used to support paging services.
POCSAG
Hardwarewise, a POCSAG pager typically consists of

a receiver chip,
a decoder chip
a microcontroller,
memory,
a LCD module and
a real-time clock.

frequencies are in the VHF and UHF (25 - 512 MHz) band for wide-area (country-wide) digital pagers.
chips are available for use in very thin pagers (e.g. wrist-watch or credit card types).
direct FM non-return-to-zero (NRZ) frequency shift keying (FSK). POCSAG is some times called an "analogue FM" system.
some state of the art receivers is based on the direct conversion principle (zero IF).
Operating up to 2400 baud
New micro-electronic developments allow low voltage operation (1.5 volts), to reduce battery power consumption.
ERMES
European Radio Message Service (ERMES) is a European common standard for paging developed by ETSI, supporting
roaming witin the European Community
the use of the same paging device throughout Europe
multiple operators per country, and
harmonising several paging services
ERMES uses a network of terrestrial base station transmitting on 16 channels between 169 and 170 MHz. The channel bandwidth is 25 kHz. The modulation method is 4-PAM FM at 6.25 kbit/s. The pager only needs to listen to one channel at a time.
Data Format
30 bits form a code word, that is transmitted in 4.8 msec. 18 out of these 30 bits carry user data, 12 bits of redundancy allow forward error correction. ERMES signals are transmitted as batches, lasting about 750 msec. One batch contains
Synchronization, consisting of two fixed code words.
System information, containing three code words of 30 bits, carrying a country code, a network operator code, network information and the current time
Up to 140 address code words.
To save batteries, the pager switches off for the remainder of the batch if its address is not present.
Subscriber messages, starting with fixed 36 bit address.
Hierarchy
16 batches make a subsequence
5 subsequences make a cycle. A cycle lasts one minute.
60 cycles make a sequence.
ERMES systems became operational in February 1996.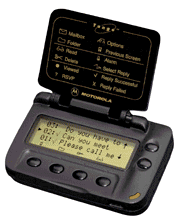 New proprietary systems are also proposed, for instance the FLEX system designed by Motorola.