Cordless Phones

Start page of video from Short Course by BMRC

Video from Wireless Communications Networks Short Course

"The main difference between cordless and cellular is that in a cellular system, the operator provides a service which is very similar to a normal telephony service except that you can be anywhere where you want whereas in cordless what the operator provides is simply a wireline telephone link to your house. And there you have a small personal "base station" so you can walk around your house with a direct link to your own base station. But there is no provision for taking your cordless phone to another city and placing a call there. ... ."


Embedded QuickTime Video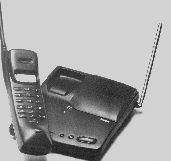 By 1997, more than 60 per cent of the U.S. home telephones were cordless. A similarly high peneration is achieved in some south-east Asian markets. Penetration in Europe is lagging, but double digit growth is predicted by several analysts.
History
The need for cordless was not recognized by regulatory agencies in Europe, but the scale of illegal imports from the U.S. and Asia forced action.
CT0
CT1
CT2 (marketed to home user)
DECT (marketed as wireless PBX)
Integrated into PCN / PCS
Some countries also have CT.0, which uses much cheaper technology that CT.1 or CT.2. CT.0 can not be used for wireless office telephony, and does not support encryption. CT1 only has coverage near the user's private "base" station. Expectations are that DECT will dominate the cordless market, at least in Europe, after the turn of the century. Sales of 20 million units will amount to 60% of the market.
Cordless Telephone CT2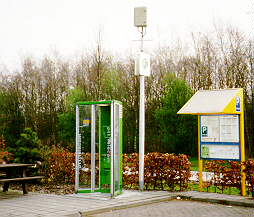 Frequency Division Multiple Access ("Each conversation has its own frequency")
Carrier Spacing 100 kHz
Time Division Duplex, with 2 msec frame duration
Channel rate 72 kbit/s
Binary Frequency Shift Keying
Speech coding: Adaptive Differential PCM at 32 kbit/s
0.72 bit/s/Hz
provides access to PSTN (Telepoint, Netherlands PTT Telecom: Kermit / Greenpoint)
can not receive calls, but can be combined with paging service
Can be used for fax
Use with data modems: officially announced max 2400 bit/s, but can work better.
Using indoor antennas, CT1 and and CT2 typically have a range of 100 meters. With outdoor antennas this can be increased to about 500 meters.

Digital Enhanced Cordless Telephone