Cellular Digital Packet Data (CDPD)
CDPD is a system for packet data transmission that uses idle voice channels of the AMPS or IS-54 U.S. cellular phone system. Applications of CDPD include
electronic mail
telemetry, for instance remote inventory reading of vending machines
credit verification
wireless fax
additional data to enhance the performance of GPS positioning systems
The channel bit rate is 19.2 kbits/s. The maximum effective data throughput is
11.8 kbit/s on the downlink, and
13.3 kbit/s on the uplink
The Medium Access Protocol uses a type of ISMA: packet contention, with busy/idle feedback. Radio access may incur delays because of
packet collision due to contention in uplink random access protocol.
channel blocking if all voice channels are in use.
CDPD Transmission Aspects
(63,47) Reed Solomon channel coding
Packets of 378 bits (including parity bits)
Signalling overhead

Downlink: busy/idle flags
Uplink: continuity indicator
Network Architecture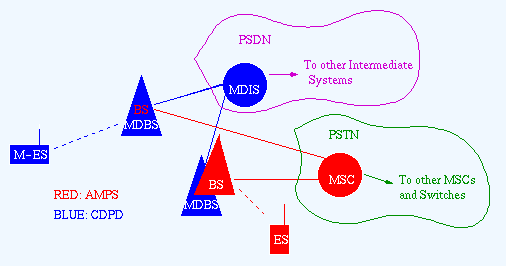 The CDPD network architecture involves
Mobile end systems, the portable subscriber device
Mobile data base stations, located at cell sites that are also used for telephony.
Mobile data intermediate system, to perform routing to higher-layers or routers and gateways, including routing over the backbone communication network.
Fixed end systems, that run user applications.