Digital Terrestrial Television Broadcasting
Contributed by Paul G.M. de Bot and Flavio Daffara
In the coming years, the current analog television distribution will be replaced by digital distribution. Digital Video Broadcasting (DVB) standards for digital transmission via satellite and cable have been developed for this purpose, and a standard for digital terrestrial is on its way.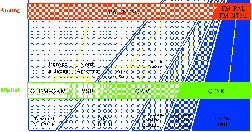 Enlarge
Figure: Migration from Analog to Digital for Different Television Media

Over the past few years, practical systems for video source coding have been developed in the framework of the Moving Pictures Expert Group of the International Standardization Organization (ISO/MPEG). This effort has led to a growing interest for introduction in Europe of digital broadcasting services in the near future. We should distinguish three different means of distribution:
satellite direct-to-home distribution,
cable network distribution and
terrestrial distribution.
Since these distribution media each have different channel characteristics and require different receiver equipment, different transmission mechanisms have to be designed, each optimized for a specific medium. All these mechanisms enable the transport of 24 to 40 Mbit/s in a single channel. Since MPEG-2 source coding can provide good standard definition video quality at bit rates of 4 to 8 Mbit/s, such a transport stream is sufficiently large to contain a number (4 to 8) of normal standard definition TV programs.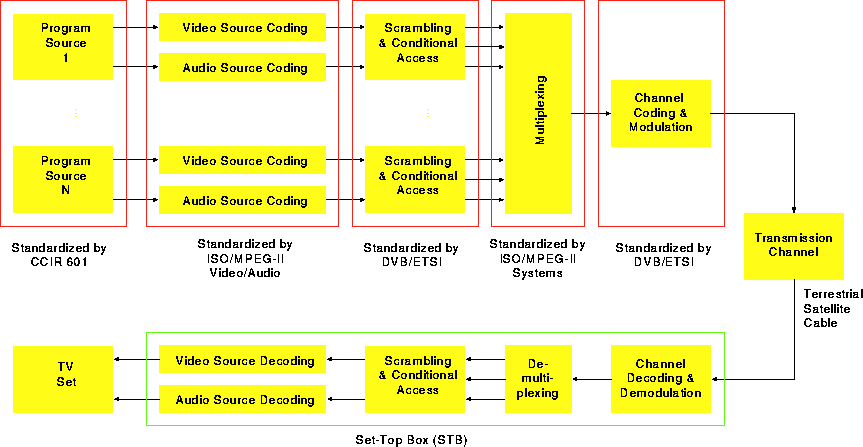 Figure: The Digital Television Chain

A draft European standard describing a transmission mechanism for TV broadcasting via satellite was fixed at the beginning of 1994. Satellite transmission is characterized by low available transmitter power, relatively high channel bandwidth (33 to 40 MHz), highly nonlinear transmitter amplification and a transmission medium which approaches the Additive White Gaussian Noise (AWGN) channel. For these reasons, Quaternary Phase Shift Keying (QPSK) modulation was chosen in combination with a powerful concatenated error correction coding.
For cable TV networks, another transmission standard was drafted in 1995. The cable channel is characterized by a high signal-to-noise ratio, a severe bandwidth limitation (8 MHz), and short signal reflections due to impedance mismatches in the network. These constraints have led to the choice of Quadrature Amplitude Modulation with 64 signal points (64-QAM) and interleaving in combination with a single Reed-Solomon code. For compatibility reasons, the interleaving and Reed-Solomon coding are the same as for the satellite system.
The terrestrial channel is for sure the worst and most difficult of the three channels discussed. This is due to the fact that the Digital Terrestrial Television Broadcasting (DTTB) system should allow large coverage for fixed receivers (with a directional roof-top antenna), and also provide the largest possible coverage for portable receivers (indoor reception with a non-directional built-in antenna). Signals are likely to experience multipath fading and delay spreads. For this reason, no final standard has yet been fixed in Europe. Discussions in all three European DTTB projects focus on the use of Orthogonal Frequency Division Multiplexing (OFDM), in contrast to the single carrier systems chosen for satellite and cable. Also in Japan, OFDM-based systems are considered for DTTB, although in North America a Single Carrier Vestigial Side Band (VSB) modulation solution seems to be preferred.
Service Introduction
Many difficulties have to be overcome, before DTTB can be introduced in Europe. Receiver ICs still have to be designed, Single Frequency SFN network structures have to be established, including the crucial issue of transmitter synchronization, commercially viable introduction scenarios have to be developed, and channel frequencies have to be allocated.

According to an optimistic scenario, the first introduction of DTTB is planned around 1998. The United Kingdom has already made channel space available for service introduction. It is the intention there to establish a nation-wide SFN in UHF channel 35, while throughout the country, in each region at least 2 taboo channels are assigned for regional and local-SFN operation. In the London area, it is even expected that 7 channels of 8 MHz each can be made available. If on average 4 TV programs can be accommodated in each channel, the London area will have access to 28 DTTB programs.

Other countries which could have some perspectives for service introduction are Denmark, Sweden and The Netherlands. In countries like Germany and Italy, all parts of the broadcast spectrum are completely filled with analog TV services. Due to this lack of available channels, introduction of DTTB in these countries seems to be very difficult.

The opportunities for the introduction of DTTB are far from being clear. However, in Europe a technical solution has been developed, albeit at the cost of high receiver complexity. During a period of at least 10 to 15 years after service introduction, simulcast with analog PAL/SECAM will be required, which increases the frequency allocation problem. After switching off the analog services, DTTB with SFNs will improve the spectral efficiency of television broadcasting significantly. This means that on the long term, the actual broadcast spectrum could be made available for non-broadcast applications.
DTTB Transmission
The performance of DTTB links depends, among other things on
See also:
web site of the ITU about DVB.