Cellular Network Architecture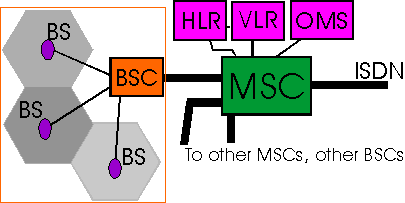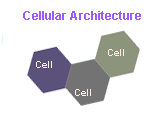 In the cellular concept, frequencies allocated to the service are reused in a regular pattern of cell areas, each covered by one base station. The network architecture is very similar for most cellular systems. It contains a Switching System, an Operation and Support System, base stations and mobile station.
The switching system
The Switching System contains five main functional entities:
The Mobile Switching Center (MSC) performs the telephony switching functions for the network. It controls calls to and from other telephone and data communications networks such as Public Switched Telephone Networks (PSTN), Integrated Services Digital Networks (ISDN), Public Land Mobile Networks (PLMN) and Public Data Networks. The MSC may also be called the Mobile Telephone Switching Office (MTSO).
The Visitor Location Register (VLR) database contains all temporary subscriber information needed by the MSC to serve visiting subscribers who are temporarily in the area of the MSC.
The Home Location Register (HLR) database stores and manages user subscriptions. It contains all permanent subscriber information including the their service profile, location information and activity status.
The Authentication Center (AC) supports authentication and encryption functionality. It verifies the user's identity (by authentication) and ensures the confidentiality of each call (by encryption) . This protects network operators against fraud.
The Message Center (MC) supports messaging services.
The base station
The Operation and Support System
The Operation and Support System supports operation and maintenance activities in the network to allow for reliable and cost-efficient operation.
The mobile station
The Mobile Station is the end user device. Details on network architecture for
Video