Satellite Systems
Mobile satellite communication has the potential to provide an infrastructure independent of terrestrial systems. Particularly, international fleet management systems employ satellite links for the exchange of messages because satellites can also be used for continent-wide paging and navigation on board the vehicle. The absence of a pan-European earth-based infrastructure for packet data communication has been an important stimulus for satellite communication links between vehicles and their home bases.

However, for systems with larger traffic loads, with more local applications, satellite communication systems may experience the disadvantage that local possibilities of frequency re-use are limited, except for satellites with very low orbits and highly directional antennas.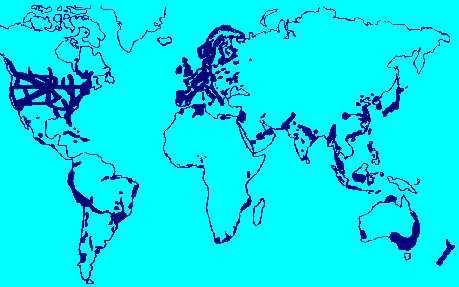 Expected coverage of cellular telephone systems by the year 2000.
In due course, communication may thus need to be transferred to ground- based cellular mobile networks. Satellite technology is particularly suited to cover rural, sparsely populated areas. Moreover satellite systems have the important ability to offer an early service which only later becomes available in the standard fixed infrastructure. Earlier examples of this have been international satellite television programme distribution and video conferencing, now also possible by broadband optical cables, intercontinental digital leased lines and 'hot lines' for journalists and statesmen travelling in less developed regions.
Cellular Satellite Networks
Mobile satellite systems work like terrestrial cellular systems, except that the base stations (i.e., satellites) move as will as mobile devices. Satellite coverage attractive for areas of world not well served by existing terrestrial infrastructure: ocean areas, developing countries. Market predictions vary between 2 and 15 Million subscribers worldwide.
Selection of Appropriate Orbits
The altitude of the earth orbit has a substantial effect of the system performance, for instance
low altitude means lower path loss, smaller transmit power and smaller antennas
low altitude means that more satellites and more ground stations are needed
low orbit satellites have a larger speed, so more handovers are needed. The average time between handovers ranges from 5 minutes to 1 hour, depending on orbit altitude.
low orbit gives smaller round trip delays
Frequency Allocations
A portion of the L-band around 1.6 GHz has been allocated for satellite telephony. 5.15 MHz of bandwidth can be used for Iridium using TDMA Multiple Access. Other allocations exist in the S-Band around 2.5 GHz mainly for CDMA transmission.
System Overview
Big Low-Earth Orbiting (LEO) Systems

Little LEO Systems

Orbcomm
LEOSAT
STARNET
VITASAT
Selected Features of Digital Land Mobile Satellite Communication Systems Offering Voice, Data and Fax Services.
Compiled by Miquele Dlodlo
GEO

ICO

MEO

Big LEO

HEO/MEO

INMARSAT
B,C & M

INMARSAT P

Odyssey

Iridium

Globalstar

Aries

Ellipso

Orbit (km above ground)

35 800

10 335

10354

780

1 401

1 018
520-7 846 ell(e);

8 040 circular(c)

No., Active Satellites

4

10

12

66

48

48

10 e; 6c
Spare Capacity
5
2
3
6
8
4
2 e; 1c
Orbital Planes
1
2
3
6
8
4
Inclination deg.
0
45
55
86.4
52
90
116.5 e; 0 c
Min. Single Hop Delay (ms)

240

68.95

69.07

5.20

9.35

6.79

3.47
Terminal Modes
1
2
2
2
2
2
Data Rates (kbps)



2.4

9.6

2.4

2.4

2.4

0.3-9.6
Voice Rate (kbps)



4.8

4.8

2.4/4.8

2.4/4.8/9.6

4.8

4.15
Multiple Access

SCPC

CDMA / FDMA / FDX

TDMA / FDMA

CDMA / FDX

Modulation

BPSK / OQPSK + FEC

QPSK + FEC

QPSK + FEC

QPSK + FEC

OQPSK

Voice Circuits per Satellite

4 500

2 300

3 840(1100)

2 808(1354)
Downlink Freq. GHz (traffic)

1.5

1.980-2.010

2.4835-2.500

1.616-1.6265

2.4835-2.500

2.4835-2.500

2.4835-2.500
Uplink Freq. GHz. (traffic)

1.6

2.17-2.20

1.61-1.6265

1.61-1.6265

1.61-1.6265

1.61-1.6265

1.61-1.6265
Additional Services
messaging
paging
paging

messaging

position location

paging

messaging

position location

paging
paging

messaging

position location
Notes: Blank spaces indicate cases where accurate information was unavailable at compilation time.


VSAT Satellites
Satellite data communication systems show a similar development as telephone systems.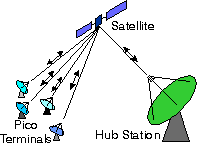 The tendency here is towards smaller and transportable ground stations. This is shown by the popularity of the very small aperture terminals (VSATs). VSATs are small satellite groundstations, normally linked within a VSAT network. The size of a VSAT is limited to a maximum antenna diameter of approximately 240 cm. VSATs are suitable for low rate data traffic (approximately 64 kbit/s).
Slides on Mobile Satellite Systems
An Acrobat review of mobile satellite systems has been compiled by Randy Katz.
Research in Europe
Europe aptly captured the mood of the communications research, development and deployment sectors in the industrialised world when naming one of their programs RACE. In a race, winning dominates virtually everything for the duration of the race. In this race with a difference, though, a lot of thought has gone into minimising costs to the end-user. Low-cost equipment has the potential of opening up mass markets and mass production on a global scale. The main result of the foregoing thought process is the quest for the small hand-held terminal with only the minimum sophistication necessary for operation in the DLMSC environment involved. A subsidiary result is the intended availability of advanced services to any user based on individualised demand rather than on some universal service objective.

The actual research and development carried out so far into non-GEOS systems (the best prospect for isolated rural people and the global PCS market) has been very expensive for the companies involved. As a result, the initial cost of services is quite likely to be out of reach of the isolated rural communities of the developing world so that the gap between the developed and the underdeveloped might at the outset widen instead of closing as desired. Hence, serious thought needs to be given to the question of how the pricing of basic services will be structured in order to avert the possible widening of the gap.