MMDS and MVDS
Micr wave Video Distribution Systems, MVDS and MMDS, sometimes called "wireless cable" may play an important role in providing home access to interactive multimedia services. Particularly in the U.S, it is now recognized how these systems can be a cost-effective way to rapidly deploy new networks.

DVB and MPEG-2 video standards are adopted. Frequency bands are 2.5-2.69, 3.4-3.8, 12.1-12.5, 28-29 and 40.5-42 GHz. The 42 GHz band may become a pan-european allocation, while 29 GHz is widely examined outside Europe. DECT-type protocols and interfaces are foreseen for the return channel.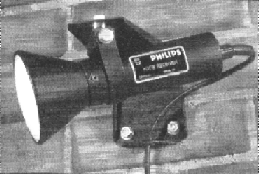 Photo: Philips MVDS receive antenna
Existing products, e.g. from Philips, can cover cells of up to 6 km in radius at 40 GHz. For interactive services, bit rates ranging from 6.4 kbit/s to 3.2 Mbit/s are foreseen.