Success Factors of Innovations
Each innovation has a critical period during its introduction. Case studies of novel information technology indicate that the simultaneous introduction of a new service and a new technology has often failed in the past, notwithstanding any impressive advantages the new service would offer.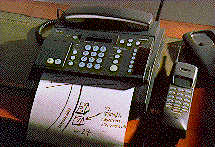 For instance, many countries, except possibly France, the introduction of videotex - a new service using a new technology - was not very successful.
On the other hand, facsimile is a clear example of the successful introduction of new service based on existing technology and an existing infrastructure, namely the telephone network.
Similarly, teletext offered a new services using existing transmitters for television broadcasting.
The successful introduction of Philips' compact disk (CD) is an example of a new technology for an existing service, previously offered by long-play records.
Even the introduction of the electrical telegraph can be interpreted as an improved technological solution to a service pioneered by the semaphore and the Pony Express service. As the concurrent experiments with semaphore communication show, the electrical telegraph was thus not a purely technology-push development: a clear interest (market-pull) in communication to bridge physical distances was present. The acceptance of these innovations came about as a novel and better technical implementation of a service previously offered with inferior techniques.