Jean-Paul M.G. Linnartz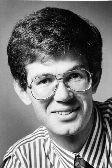 Assistant Professor, 1991-1995
Assistant Adjunct Professor, 1995-1998
Department of Electrical Engineering and Computer Sciences
University of California at Berkeley, Cory Hall, Berkeley, USA

Now Department Head / Principal Scientist with the "Natuurkundig Laboratorium," Philips Research, Eindhoven, The Netherlands.
linnartz@eecs.berkeley.edu, J.P.Linnartz@philips.com linnartz@ieee.org

FOR MORE INFORMATION:
Please view this page on a browser that can display html frames.