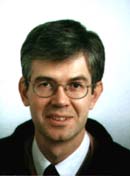 Jean-Paul M.G. Linnartz
Editor-in-Chief and Principal Author


Wireless Communication
The Reference Website.
| Home page | Research page |
Currently

Jean-Paul Linnartz is Senior Director with the "Natuurkundig Laboratorium" (Nat.Lab.) of Philips Research at Eindhoven, The Netherlands.
He is Department Head of group of researchers working on communications systems.

Previously
with
universities
In 1988-1991 and in 1994, he worked with the Telecommunications and Traffic Control Systems Group at the Department of Electrical Engineering at T.U. Delft as Assistant and Associate Professor. In 1992-1994 he was Assistant Professor and, also from 1994-1998, Assistant Adjunct Professor at the Department of Electrical Engineering and Computer Sciences, of the University of California at Berkeley.

In 1987-1988, he was with the Physics and Electronics Lab of The Netherlands Organization of Applied Scientific Research (TNO), The Hague, where he developed propagation forecasting tools, used for frequency assignment and operational control of military radio relay systems.
Studies
In 1991, he received his Ph.D. Cum Laude from Delft University of Technology. He received his Ir. (Masters) degree Cum Laude from Eindhoven University of Technology in 1986. He was born in Heerlen, The Netherlands.
His research interests include wireless networks, communication over multipath and fading channels, Random Access and Intelligent Transport Systems. In particular, he coined the term (Orthogonal) Multi-Carrier CDMA in a pioneering paper in 1993. He also developed access schemes that combine random access within one cell and adaptive frequency reuse, such as Space-Time Reservation Multiple Access and the virtual cell concept. His Ph.D. thesis presented new mathematical methods to evaluate the outage probability in cellular networks and performance of wireless data networks. He is also interested in radio broadcasting and frequency planning. At U.C. Berkeley, he was involved in the INFOPAD and California PATH research projects.
Publications
Jean-Paul Linnartz is the author of the monograph "Narrowband Land Mobile Radio Networks", various book chapters, as well as numerous technical papers. The reviewed technical papers, served on the organizing committee of international conferences, organized and participated in panel sessions on mobile communications, information theory, signal processing, electronic watermarking, and computer graphics. He was consultant to broadcasters, cellular operators and hardware manufacturers. From 1983 - 1985 he was free-lance radio presenter for the Dutch public radio, and radio presenter for a Belgian local commericial radio station. In 1999 - 2001, he owned his own Internet all-talk radio station, with daily programs featuring Wireless Communication. He is listed in "Who's Who in the World", and the "Dictionary of International Biography". He is Senior Member of the IEEE.

He is Editor-in-Chief and principal author of this web site.